There's so much to do in Courchevel over the summer it's hard to narrow it down to just ten things! New and old, relaxing or adrenaline-fuelled, there's so much going on and so much get stuck in to. After a summer holiday to Courchevel you'll never want to go to the beach again! Here are the events and activities not to miss during your summer holiday in the mountains.
1 - FREE LIFTS!
Yes, you read that correctly! This summer, for the first time ever, the summer lift network will be completely FREE to use for everyone, even mountain bikers. This gives you access to Courchevel's incredible summer events, miles upon miles of hiking and biking trails, and countless dazzling views. There will also be free parking and free shuttle busses to make travelling between Courchevel's villages that much easier. Find out more here.
2 - Ski Jumping World Cup, 10th – 11th August
Ski jumping? In the summer? Yes! In fact, the Ski Jumping World Cup is one of the events of the season, incorporating live music, fireworks and numerous other fun goings on around the main attraction. The event is part of the FIS Summer Ski Jump Circuit and sees some of the best ski jumpers in the world battling it out against each other (and gravity!) in beautiful sunny conditions. It's always incredible to watch and offers a great few days out so make sure you give it a look!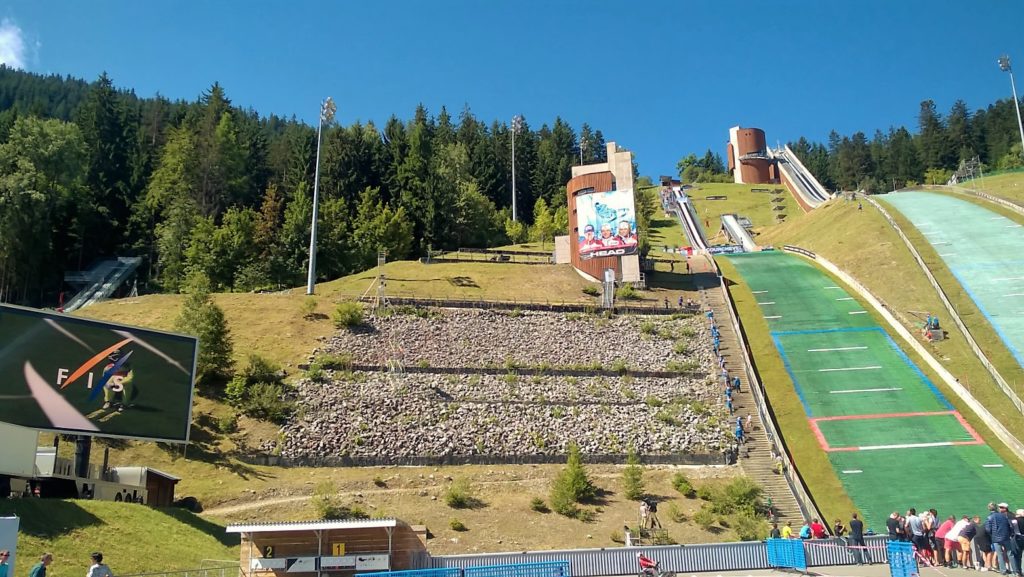 3 - Fly Courchevel, 10th – 15th August
If you're a fan of gravity-defying stunts and keeping your feet off the ground, make sure you check out Fly Courchevel, back again this summer after a mega-successful first year. A celebration of all things flying, the festival involves a vast exhibition of planes and helicopters, guided flights, VR simulations, as well as the chance to learn to fly yourself! There will also be heaps of in-the-air demonstrations, from search and rescue to air acrobatics and sky painting. Courchevel even has its own airport, so it's the perfect location to take a few flying lessons. And of course, sightseeing flights and flying introductions are available throughout the summer, offering some of the most breathtaking views in the Alps.
4 - Toboggan down the ski jump
Courchevel really knows how to use their ski jump over the summer! Brand new for this year, you can try your hand at sliding down the landing in an inflatable toboggan. Probably the most fun you can have on a ski jump if you're not a professional ski jumper, we highly recommend you give this a try!
5 - Aquamotion
Based between Courchevel 1550 and 1650, Aquamotion is the biggest mountain aqua park in Europe, with everything from waterslides to wellness areas to keep the whole family entertained. You can get a relaxing massage, test out the indoor climbing wall, soak in the hot tubs or race down the slides. Take a Pilates class, get a facial, jump off the diving boards, the possibilities are endless. But that's not all; Aquamotion is also home to Europe's first indoor surf wave! There's so much to do in one place you'll want to go again and again, which is great because there is a huge range of pass options on offer to suit your needs.
6 - A New Col Dedicated to Cyclists
Another new addition this summer, Courchevel is building new pass dedicated exclusively to cyclists. This new trail will be based on an already-existing track used for lift maintenance and will lead up to the top of the Col de la Loze, where cyclists can enjoy awe-inspiring panoramic views. At 5.8km long with a 377m vertical climb, it's ideal for beginner and experienced bikers alike. And the best part is that it's free for everyone to ride without having to worry about cars or other motor vehicles!
7 - Pyro Symphonie Live, 25th July
One of Courchevel's major cultural events of the summer, this open-air night of ballet, classical music and fireworks has something that everyone will enjoy. This year will see Tchaikovsky's The Nutcracker brought to life on stage, with music from the forty-piece Minsk Symphonic Orchestra. To make things even better, the whole thing will be accompanied by a spectacular firework display by award-winning pyrotechnic company, Pandora Pyrotechnie. The Pyro Symphonie Live takes place in Courchevel Le Praz and is always an unforgettable way to spend a warm summer's night.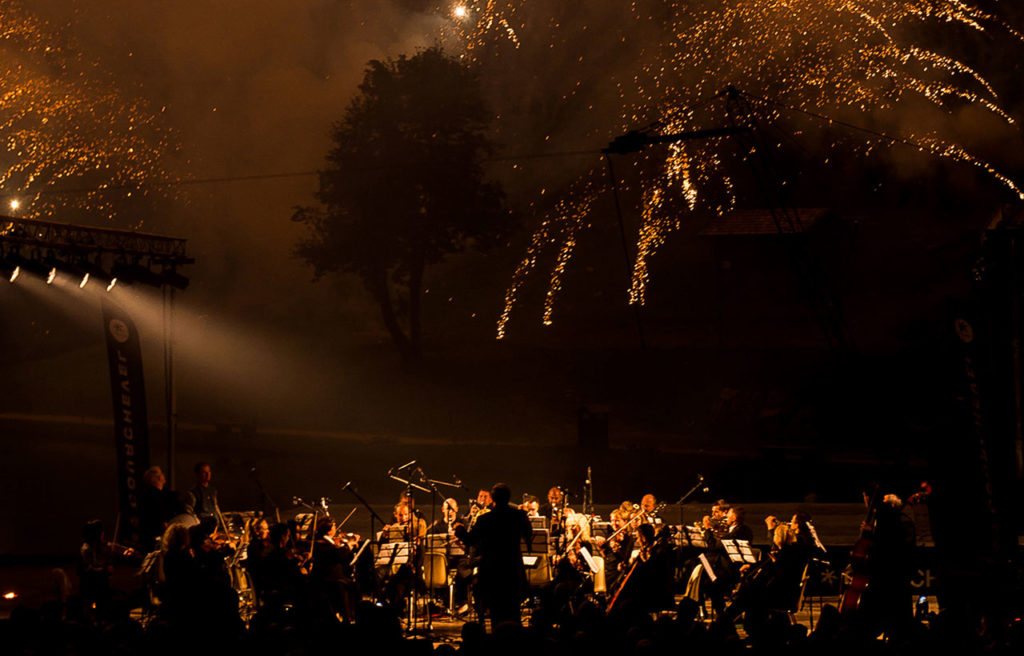 8 - Two New Mountain Bike Trails
For summer 2018 Courchevel will be opening two brand new downhill mountain bike trails. Already renowned as an enduro paradise, these two new red runs will add a new dimension to mountain biking in Courchevel and will be great for beginner and more experienced riders alike. Measuring in with 900m and 730m of vertical descent respectively, you'll get lots of time on your bike and get to enjoy some stunning surroundings on the way down.
9 - Red Bull 400, 21st July
Known as the steepest running race in the world, the Red Bull 400 runs from the bottom of the Courchevel ski jump to the top. While it may only be 400m long, it includes 140m of vertical and slopes of up to 36 degrees. Last year over 700 people took part, either individually or in a relay team of four. Sign up and race with some of the world's best runners, or just kick back and watch with a cool drink, it'll be a great experience either way!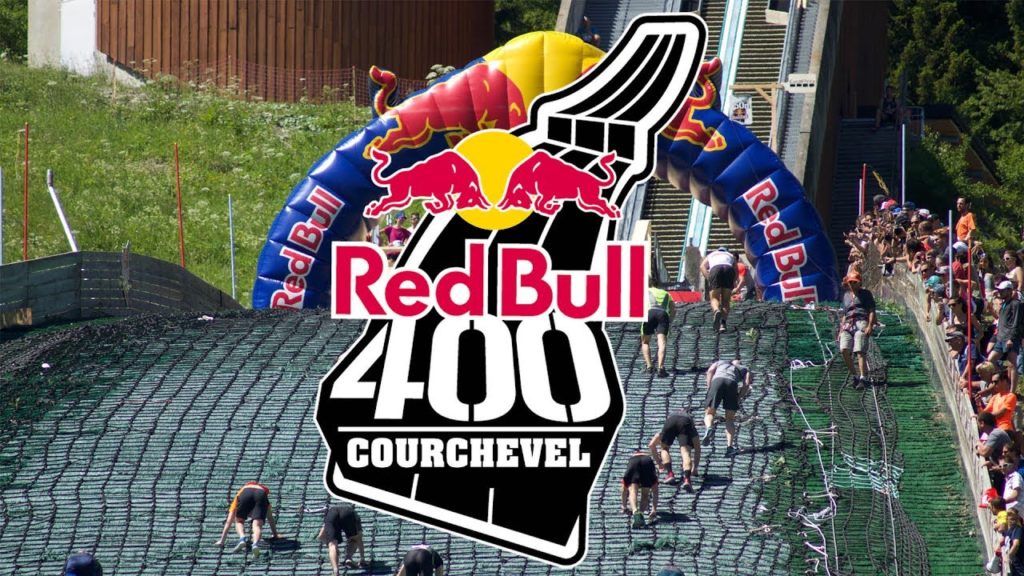 10 - New Climbing Routes at Praméruel
Keen climbers will be happy to know that the Praméruel climbing wall now has 25 marked routes for you to play with. Perfect for everyone from complete beginners to more experienced climbers, a bit of rock climbing is a great way to spend summer days in the mountains. Whether you're in a mixed-ability group or going climbing with the family, this is the perfect place to spend a few days and make the most of being outdoors.