Les Gets is the perfect example of a small mountain town that's grown to attract visitors and residents from all over the world, but still retains its charming Alpine atmosphere. While already well-known winter destination, Les Gets' summers are starting to catch the eye of more and more mountain bikers, hikers and families as a summer holiday haven as well. Namely because of its incredible array of events and attractions over the warmer months. Here's our pick of the best.
1 - Crankworx Les Gets, 20th - 24th June
Crankworx is one of the main events of the European mountain biking calendar and it's definitely a spectacle not to be missed! Kicking off the summer season with a bang, the week sees the world's best riders come together for a week of competition, including slopestyle, downhill and Speed & Style, which is always amazing to watch. Visitors can also enjoy testing out bikes from all the major brands, alongside live music and parties in the evenings and of course, lots of riding and other MTB-themed goings on.
2 - The International Mechanical Music Festival, 21st - 22nd June
Did you know one of Les Gets' main attractions is that it's home to the Museum of Mechanical Music? This unique museum holds a fascinating collection of working devices documenting the colourful history of automated music before the birth of tapes and CDs. It's also why Les Gets hosts the International Festival of Mechanical Music every other summer. The weekend sees mechanical music enthusiasts get together in the town centre and display their beautifully handcrafted musical devices to the public. Visitors will also have access to demonstrations, concerts and workshops that will provide a fun and exciting insight into musical history.
3 - Pass'Portes du Soleil, 29th June - 3rd July
Pass'Portes du Soleil is one of the biggest weekends of the summer across all the resorts in the Portes du Soleil, and anyone can take part. Thousands of entrants every year will spend a weekend riding mountain bikes around the twelve resorts of the PDS, something which can only take half a day on skis but is a little more tiring on a bike! A great way to explore the area and challenge yourself, the event also includes a kids' trail and a walking trail, as well as a salon where you can test lots of different bikes, so there's something for everyone.
4 - Lounge Music Festival, 6th - 18th August
Now in its eighth year, the Lounge Music Festival is fast-becoming a Les Gets institution. A laid-back and relaxed two weeks of music using the bars, restaurants and outdoor spaces of the village as its venue, this is a great chance to discover a huge range of new artists. Performers range from local bands and singers to groups from all over the world – and it's all free. The Lounge Music Festival always syncs up with a performance from a big French star; this year it's Slimane, winner of the fifth series of The Voice France.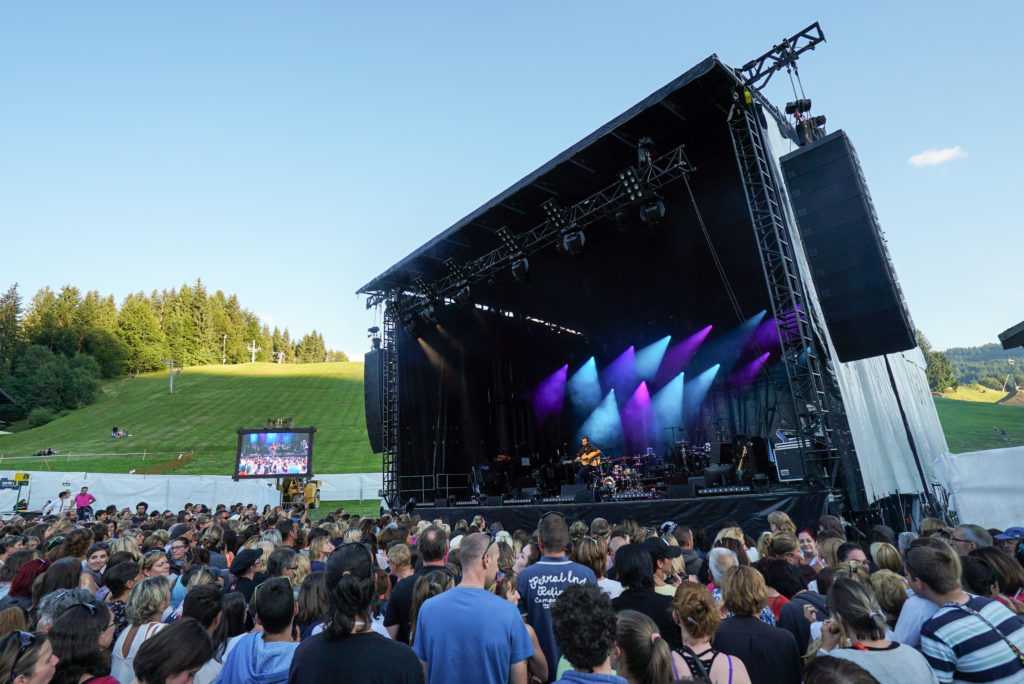 5 - Local Produce Galore
Les Gets is home to a whole host of artisans and craftspeople, who make everything from cheese to furniture. Once an old logging village, wooden traditions are still going strong in the town and there are numerous shops where you can buy hand-crafted wooden furniture and trinkets. Les Gets is also home to lots of working farms that you can visit and purchase home-made produce such as cheeses, cured meats, honey and confitures. La Ferme de Caroline even puts on casual evenings where you can enjoy a meal made with ingredients raised, grown and prepared on the farm.
6 - Wibit Aquapark
Nestled among the pistes and bike trails of Les Gets is a charming little swimming lake that's perfect for family picnics and sunbathing. Over the summer months it's also home to Wibit Aquapark, a giant inflatable obstacle course that takes up residence in the lake. Amazing fun for adults and kids alike, good times are guaranteed.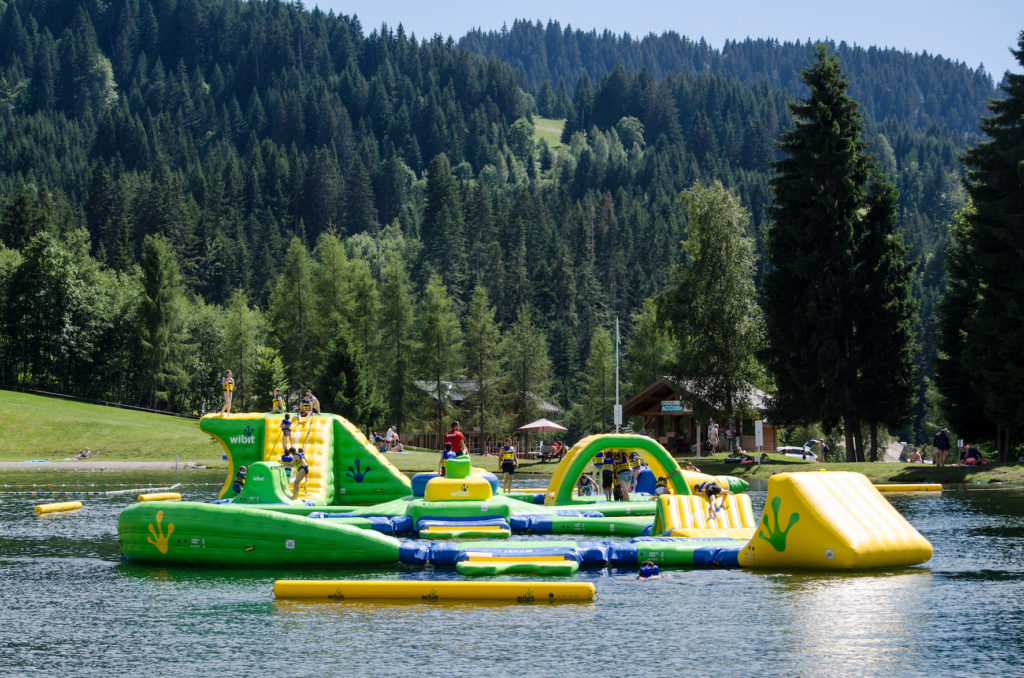 7 - Golf
Did you know Les Gets is home to a beautiful mountain golf club? It might not be what the town is most well-known for but for golf fans it's a massive plus. After all, who wouldn't want to play a few holes with the added bonus of beautiful mountain views, balmy temperatures and maybe even a few marmots on the green?
8 - Hiking for Everyone
Les Gets has a huge range of hiking trails and is linked to the massive Portes du Soleil area by the expansive lift network. Beautiful wildflowers, getting to share the footpaths with friendly Alpine cows and incredible panoramic views of Mont Blanc are just a few of the things that make hiking in Les Gets such a pleasure. Trails range from the family-friendly to more extreme scrambles, so there's something for everyone.
9 - The Portes du Soleil Multi Pass
The Multi Pass is the perfect option for anyone visiting Les Gets who's not mountain biking. It gives you access to the huge Portes du Soleil lift and bus network, as well as free entry to lots of other attractions across the twelve resorts, like swimming pools, swimming lakes, historical attractions, mini-golf and tennis courts. And if you're staying in Multi Pass accredited accommodation it only costs €2 per day, win!
10 - Electric Adventures for Kids
Mountain E Park is an innovative environmentally-friendly initiative that offers electric trials bike lessons and courses for kids. The only venture of its kind in France, it allows kids to explore the mountains and learn a new skill in a safe environment and without the noise and air pollution normally associated with motorbikes. Look out for Mountain E Park in the winter, too; they also offer electric snowmobile sessions for kids.
If you'd like to invest in a home in Les Gets, we're now reserving apartments in our latest Les Gets development, Kinabalu. Click here for more details.