This summer marked a year since the opening of our second exclusive restaurant, Vina Annapurna in Les Gets. Located in our award-winning Annapurna development in the centre of Les Gets, Vina Annapurna is our only restaurant to be open throughout the year, and what a great year it's been! The restaurant has gone from strength to strength, offering a delicious seasonal menu with a focus on regional produce and modern French cuisine, alongside fantastic customer service and events. Following an excellent summer season, the team announced that the restaurant was ranked number one on popular travel ratings website, TripAdvisor, out of 58 other restaurants in Les Gets.
 

"A great night in Vina Annapurna last night. A very nice diner and a very good jazz band. We loved it!" - Peterhull1963

 
Featuring a casual and comfortable atmosphere with a menu suited to all tastes, ages and budgets, Vina Annapurna has received excellent reviews since it opened in May 2018. And it's all down to the hard work of our food and beverage team, who've pulled out all the stops when it comes to service and events. From wine recommendations to local knowledge, they really know their stuff! One of the highlights has been regular jazz nights, with performances from local singer, Tania Ivanov, accompanied by a range of local musicians.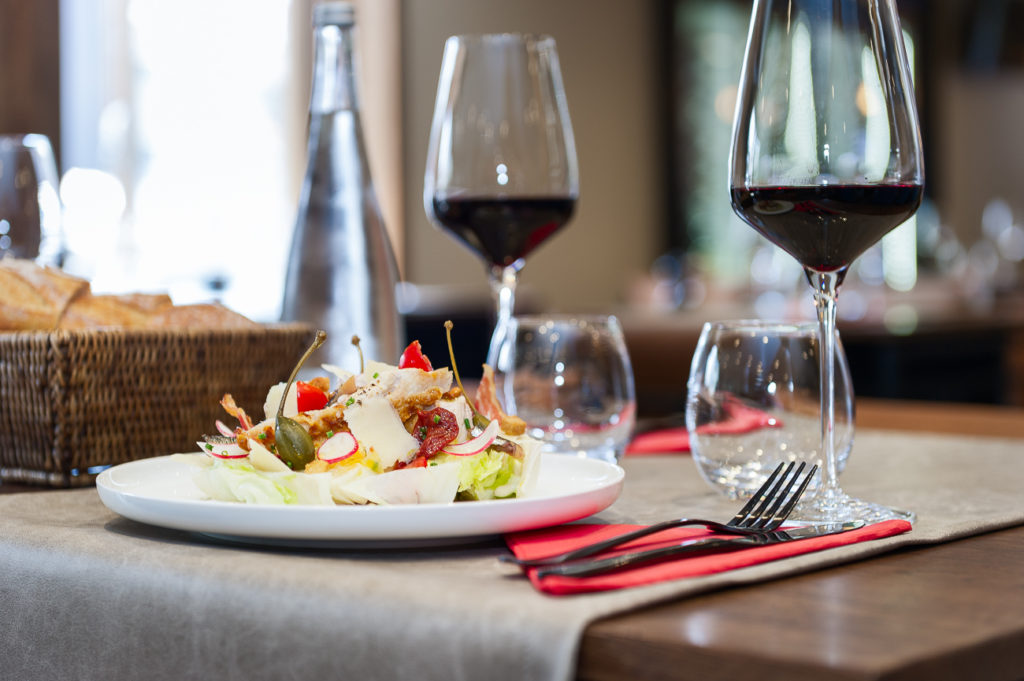 "We had a fantastic dinner at Vina Annapurna, from the plate of charcuterie and cheese to the lightest mousse au chocolat I ever had. We had really good advice on the wine, and we had the pleasure to meet the chef at the end of our dinner. The service was irreproachable and we will definitely come back for our next trip to Les Gets." - Marie-Sophie B
Vina Annapurna also enjoys a stunning menu created by our Michelin-trained executive chef, Antony Trezy. The menu is carefully designed and beautifully varied, ranging from tapas-style starters to a tasty burger, or the classic Vina Annapurna Caesar salad. Alongside the fantastic food you'll also find a magnificent wine list, coffee selection and cocktails. Plus, a kids' menu and a very affordable €17.50 plat du jour during the day make the Vina Annapurna not only popular with locals after a quick bite at lunch time, but as a destination for special occasions such as birthdays and anniversaries. The Autumn menu is up and running tomorrow, on 18th September, and we're happy to tell you its carefully selected collection of dishes doesn't disappoint.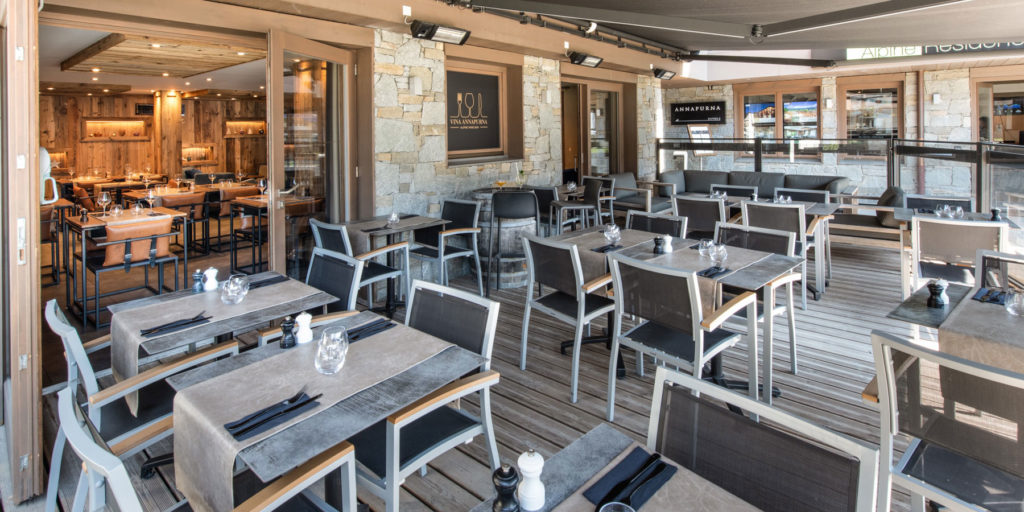 "We stumbled into Vina Annapurna as there was nowhere else open in Les Gets as we were out of season. We were well rewarded - fabulous food and reasonably priced. Double bubble! Friendly service too. Menu limited as out of season but everything looked great. Good wine list too and tables or comfy sofas to lounge in." - Cwtch2017
"We are delighted to reach first place first place on TripAdvisor, as it really rewards us for our work." Says our restaurant director, Emmanuel Lachenal, "This first year allowed us to refine our concept to have a successful restaurant today. For this winter we will keep the same formula as this summer, opening every day for lunch and dinner, and serving our great value menu of the day. We're looking forward to keeping up the high standards of cuisine and service well into the future."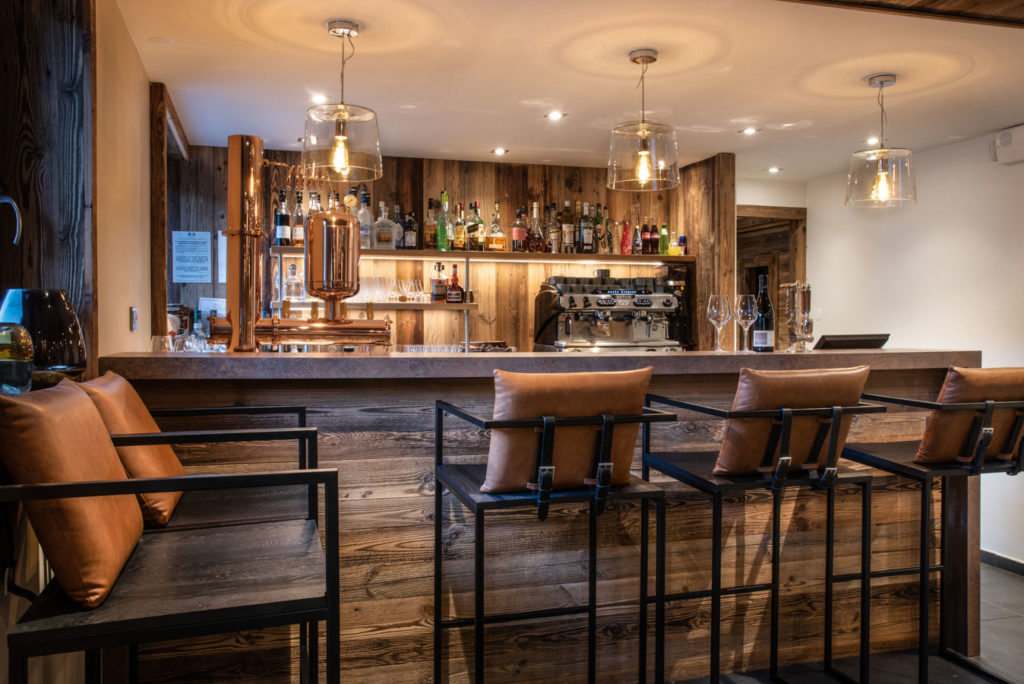 "We visited this smart restaurant set in a new development. There is an excellent wine list and comfy seating for drinks pre-dinner. The food is beautiful fresh European style, quite unlike most places in Les Gets. The prices were very reasonable for such high quality. Very tasty cod with beautiful arrangement of veg and one of the best tart tatins ever." - Busby22bee
This autumn, Vina Annapurna will be open from 12pm - 2pm and 7pm – 10pm from Wednesday to Sunday, and daily from mid-December. If you're in Les Gets over the next few months we'd love to see you and hear what you think of the autumn menu! We're also really happy to announce that Tania will be back with a selection of friends to to provide the soundtrack to your dinner on the following dates:
19th September:
 Tania Chante des Notes + Joachim Expert (piano) & Claude Bakubama (bass)  
17th October:
 Tania Chante des Notes & Calvin Coal (guitar) plus special guest  
14th November:
Tania Chante des Notes & Taofik Farah (guitar)  
19th December:
Tania Chante des Notes & Le Clan des Dijonnais (piano, double bass, percussion)  
We'd like to say a huge thank you to the entire team at Vina Annapurna for another incredible summer of fine dining, music and exceptional customer service. We couldn't be more proud to have such a delightful establishment in one of our most renowned developments.
View the Vina Annapurna website and the new autumn menu here; if you're in Les Gets this Autumn you can even book your table online. Make sure you're following Vina Annapurna on Facebook to keep up to date with events. And if you're in Courchevel this winter, make sure you stop in for a bite at our exclusive Courchevel restaurant, Bistrot Le C.