We can't believe how fast the time has gone, but we're incredibly excited that our favourite ski resorts, Courchevel and Les Gets are open for winter. Both resorts have enjoyed plenty of snow, and have lots exiting events and activities planned for Christmas and New Year. If you've never visited them before, here's our guide to our favourite ski slopes in Courchevel and Les Gets, for every level of skier and snowboarder. And if you have visited one or both of the resorts before, let us know if you agree!
Les Gets
Les Gets offers some amazing skiing and is renowned for its wide, tree-lined pistes that are great for skiers and snowboarders of all levels, with a special emphasis on family friendly activities and ski zones.
If you're skiing with young kids we recommend the Mauve Milka Piste, which is packed with fun sensory obstacles for little ones to navigate while they ski, including bells to ring and hoops to duck under. Skiing with bigger kids? They'll have hours of fun on the boardercross course, as will the grown ups!
If you're looking for somewhere quiet to blast around, we'd recommend Mont Chéry. This small mountain sits separately from the main ski area (and is a stone's throw from our Annapurna and Kinabalu residences) and is home to mostly red and black runs. Because of this, it's often very quiet and offers some amazing slopes with beautiful views, including stunning panoramas over Mont Blanc. And better yet, our fantastic Les Gets restaurant, Vina Annapurna, sits just at the bottom of Mont Chéry, providing you with the perfect spot for lunch!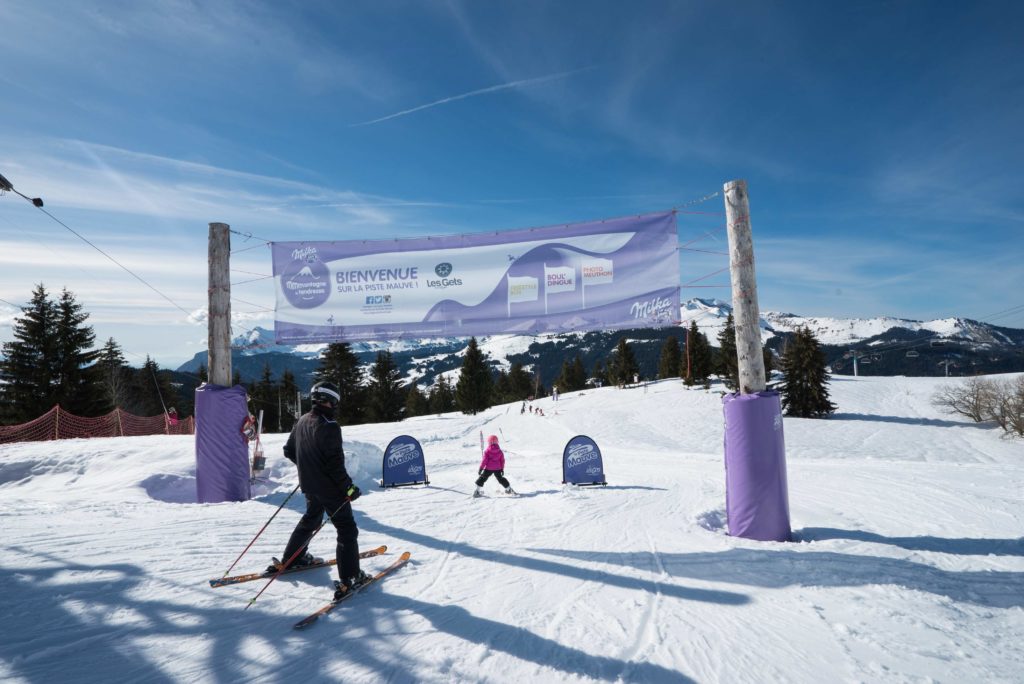 If you're a beginner, you can't go wrong on les Mappys beginner slopes at the top of the Chavannes gondola. They're within easy access of the town centre and are right in the middle of the Morzine - Les Gets ski area, so you have your pick of gentle blue and green runs when you're ready to explore.
If you want to get some powder skiing in while you're visiting Les Gets, don't miss the legendary Chamossiere freeride zone. This patrolled but ungroomed slope offers beautiful views and fantastic terrain as you make your way down into the trees.
Don't forget, Les Gets is also part of the huge Portes du Soleil ski area, which encompasses 650km of pistes over France and Switzerland. Spend a week exploring the ski area and we promise, you'll never be bored!
View our luxury accommodation options in Les Gets
View apartments for sale in Les Gets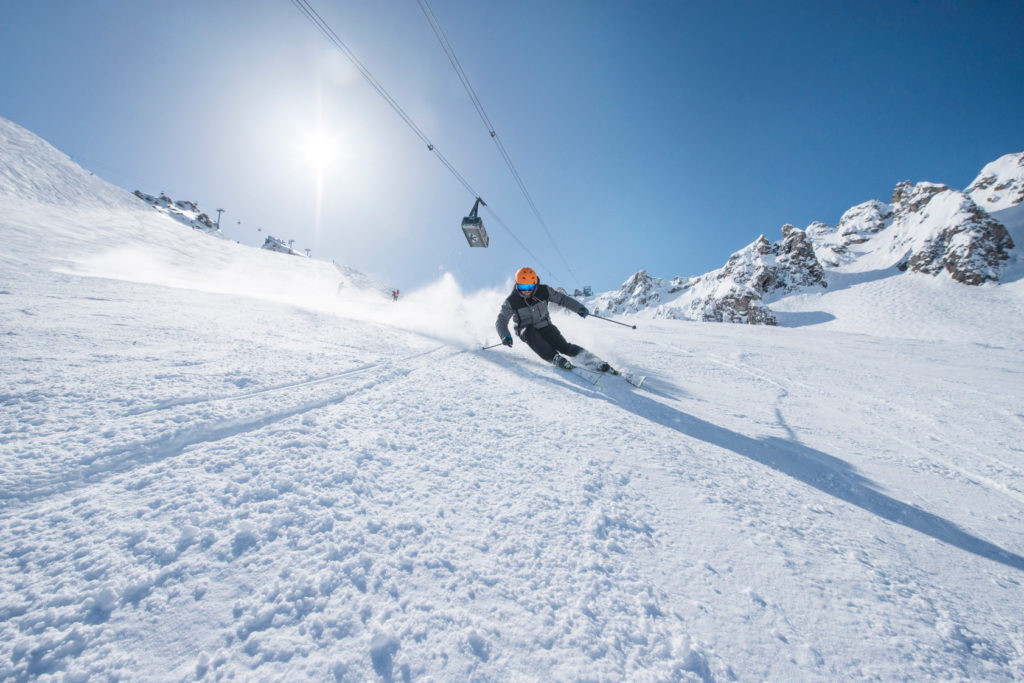 Courchevel
Couchevel is renowned for its versatility and is home to slopes that cater to all levels and ages, as well as some amazing off-piste, here are our favourites.
Courchevel offers plenty of great on-snow play areas for kids, and our favourite is by far the Western Park in 1650. This little enclosed space has all the equipment to help little ones learn to ski, including lots of Native-American themed games, obstacles and experiences to keep them entertained all day long. There are also some great pistes around the Western Park, our favourites are Rochers and Bel Air, so if you're a parenting duo one of you can easily head off for a solo ski while the other skis with the kids. If your kids are a bit older and more experienced, what could be more fun than the Family Park in 1850? Kids and adults alike will have a great time racing on the boardercross course, learning to hit jumps and practicing their skills on the air bag.
Fancy some off-piste? Courchevel is home to some spectacular off-piste skiing. Head to the forests of La Tania when it's snowing and foggy, and when the sun comes out why not challenge yourself with a run down the Grand Couloir? This ungroomed black run off the Saulire cable car offers all the fun and excitement of off-piste skiing but as it's patrolled daily, it also offers a little extra safety; perfect for those wanting to hone their off-piste skills, as well as seasoned experts.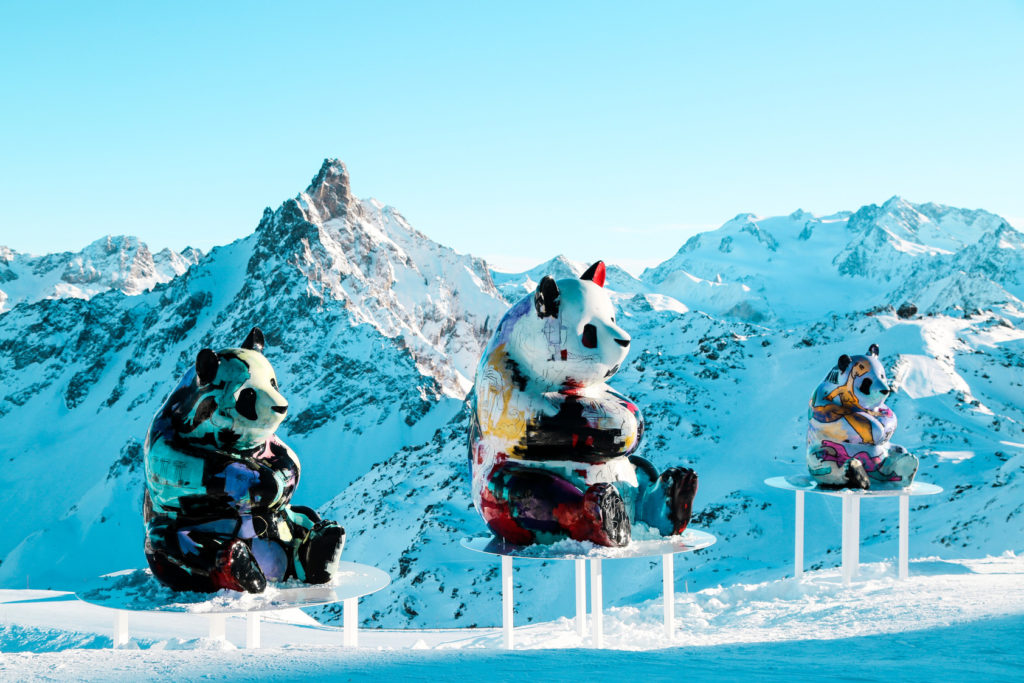 And if you just want to blast around honing your carving technique? Don't miss the Combe de la Saulire, a red slope that runs from the highest point in the Courchevel valley back to the base of the Saulire cable car. This north-facing piste is pretty much always guaranteed to have great snow and offers something for everyone, whether you want to take it slow and admire the views or see how fast you can go.
For another unforgettable on-snow experience in Courchevel, don't forget to check out the summit of La Vizelle, where you can see the totally unique Art au Sommet exhibition. This outdoor mountain-top art show is up all winter and has previously displayed works from the likes of Salvador Dali and Richard Orlinski.
One of the best things about Courchevel is that it's made up of five different villages, why not take the time to explore on your skis? Red slope Amoureux offers great skiing all the way down to Le Praz, while our recommendation to ski down to La Tania is red run le Bouc Blanc. From both you'll enjoy fantastic scenery and beautiful views, especially if you head down around lunch time when the slopes are quiet.
And of course, Courchevel is part of the world's largest ski area, Les 3 Vallées, which offers over 160 ski lifts and a top altitude of 3230m. Les 3 Vallées truly offer something for everyone, but but make sure you give yourself lots of time to explore!
View our luxury accommodation options in Courchevel
View chalets and apartments for sale in Courchevel
We hope you're looking forward to your winter holiday in Courchevel or Les Gets! If you've not booked yet, feel free to browse our availabilities HERE and book online. And of course, don't hesitate to get in touch if you have any questions. If you're thinking of investing in a property in les 3 Vallées, les Portes du Soleil or Espace Killy, you can view our current property offers HERE.