Mathilde Rossi is in charge of carefully curating the luxurious interiors of Alpine Lodges properties across the Alps. Having designed and implemented schemes for a €4.5million triplex penthouse apartment in Courchevel, as well as several other Alpine Lodges projects, Mathilde works closely with property purchasers to ensure interiors are the perfect blend of personal taste and Alpine chic.
"Alpine-inspired furnishings change every season. I have a small selection of go-to designers who always inspire me with their new creations. But I'm also a fan of finding new designers too. Here's my pick of the ten best Alpine-inspired furnishings this winter – they'd make any room look great!" says Mathilde.
1 - Discoco Suspension Lamp – Designer: Christope Mathieu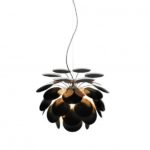 Comprised of 35 individual disks, this lamp creates a dramatic play of lights and soft shadows. It looks great in our Alpine Lodges properties as even when the light is turned off, it still looks beautiful reflected against the backdrop of the mountains.
2 – Champagne Bucket – Designer: Light & Living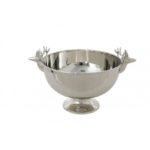 No luxury ski property is complete without a fine champagne bucket. I love the stag head detailing on this example, it's unique yet understated and looks even better filled with bottles of Moet!
3 – Annapurna Chair – Designer: Now's Home France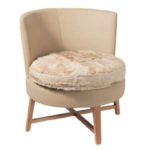 Perfectly sized to be both an occasional chair and part of a complete lounge collection, the Annapurna chair features in several of our high-end design collections this winter. We're huge fans of Now's Home France here at Alpine Lodges, I personally love their balance of elegance and ethnic decoration.
4 – Mikado Dining Table – Designer: Ethnicraft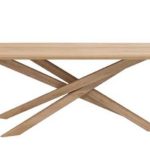 With its distinctive crossed table legs, this beautifully finished dining table provides the perfect setting for a sociable gathering after a long day on the mountain. Its solid structure compliments the softer elements of my interior designs.
5 – Deerskin Rug – Designer: Peausseire Sabatier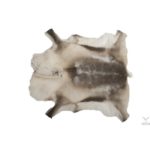 I'm a huge fan of furs and authentic fabrics in my designs, and with Peausseire Sabatier I'm spoilt for choice! This deerskin rug provides a sense of warmth and understated luxury that looks perfect alongside an open fireplace.
6 – Cheese Board – Designer: B. Chabert for Altiligne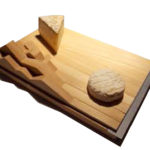 Cheese is the iconic food of the mountains and this beautifully crafted cheese bard presents them perfectly. The Alps are represented in hand-crafted detail and this board would look ideal at the centre of any mountain dining table. This cheese board is also my top gift suggestion this season!
7 – Rabbitskin Throw – Designer: Peausseire Sabatier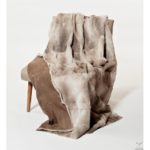 Blending rustic, luxurious and contemporary design elements together is a key part of my design style. This rabbitskin throw has it all. The plaid rabbitskin is exceptionally soft and the whole throw, draped over a chair or sofa, adds a touch of sophistication to any room.
8 – Colette Cushions – Designer: Home Spirit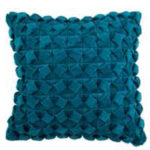 Whatever your style, inspiration or location, cushions finish a room. They offer a sense of sumptuous luxury, while connecting colours, themes and fabrcis. This season I'm using this beautiful; textured Collette pillow in many of our properties. It's versatile, hard wearing and the 3d effect adds a bit of fun too.