When buying a property with Alpine Lodges, you may not have the time, inspiration or energy to devote to furnishing your apartment in preparation for your first holiday. Don't panic, our Alpine Interiors dedicated design team will take care of everything. They are a team at the forefront of trends and they are available to help you design a property that suits you. This tailor-made support offers you a unique living space that reflects your style and taste.
From the carpets to the lighting, our interior design team supports each happy property owner in the process of fitting out their interior. They'll present a selection of furniture and decoration options. In addition, depending on the nature of the property – whether it is to rent out, or simply to enjoy as a second home - our team of experts will be able to advise you in your choices.
Here we meet Mathilde Rossi, head of interior design at Alpine Interiors. She takes stock of a busy year and sums up the current trends in mountain interior design. She coordinates, with her team, the layout and furnishings for unique interiors.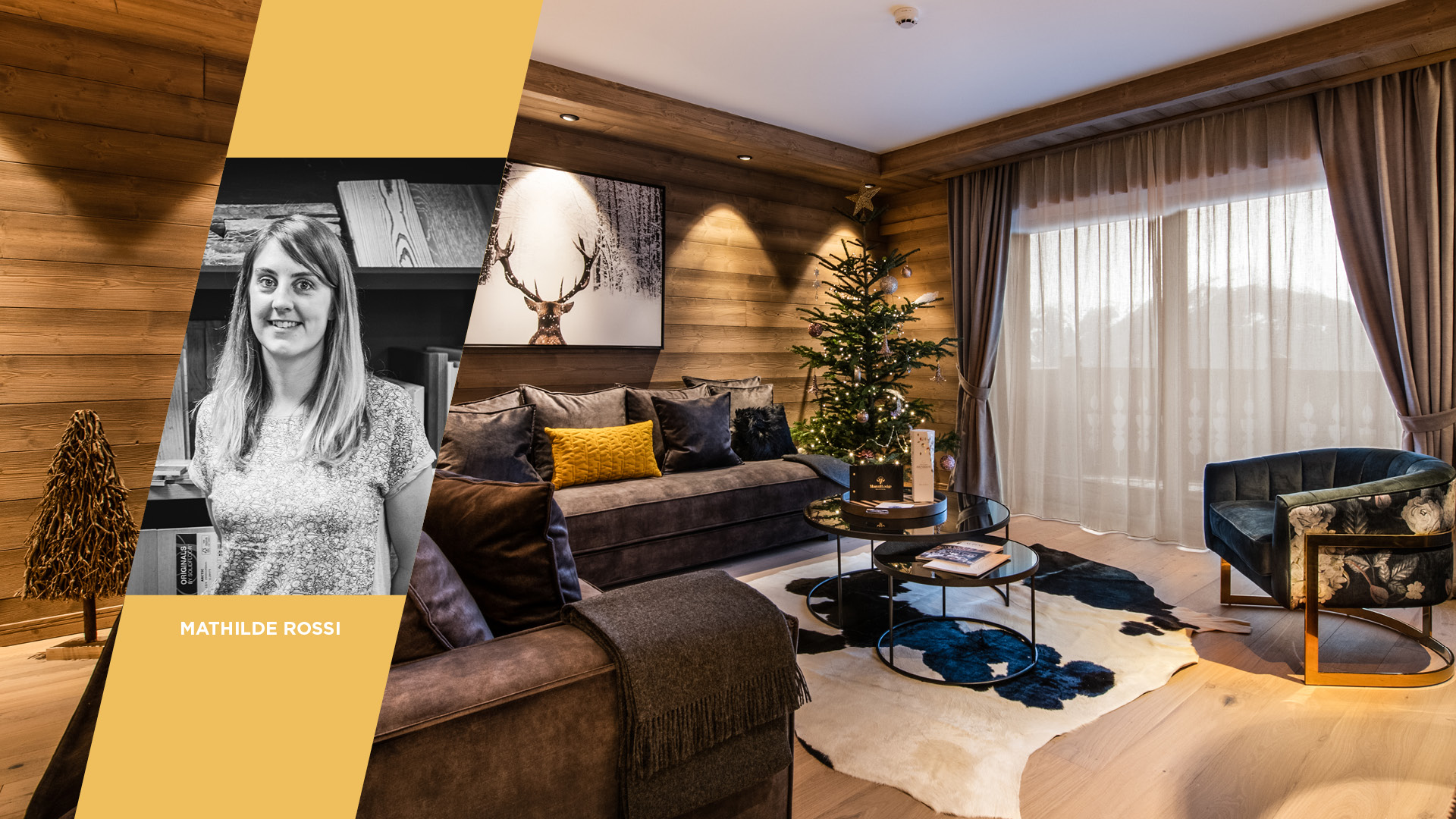 The Yangra suite in the Manali Lodge hotel in Courchevel.


Mathilde, it has been a very busy year for Alpine Interiors, can you briefly explain to us which projects you have worked on? And do you have a favorite?
Mathilde : Yes, we have been working on the Manali Lodge in Courchevel, which was delivered at the end of 2019, but we have made improvements and finishes during 2020. We are currently delivering the Kinabalu: 28 apartments, a restaurant and a SPA in Les Gets. At the same time, we are working on the interior finish choices of Alaska Lodge and Vail Lodge in Val d'Isère.
The restaurants are more complex than the apartments, but the relationship with our apartment owners is always very pleasant and rewarding.
What are the interior trends at the moment? And how do you integrate them into your Alpine Interiors projects?
Mathilde : The trends are for natural materials, rattan, colors, such as shades of green or terracotta. We weren't able to attend the Maison&Objet exhibition Paris in September because of the ongoing sanitary situation, so instead we are working more with the samples that each supplier sends us. We are also working hard to develop the personalisation of our apartments with new finishes, in particular the wallpapers, which are becoming more and more trendy.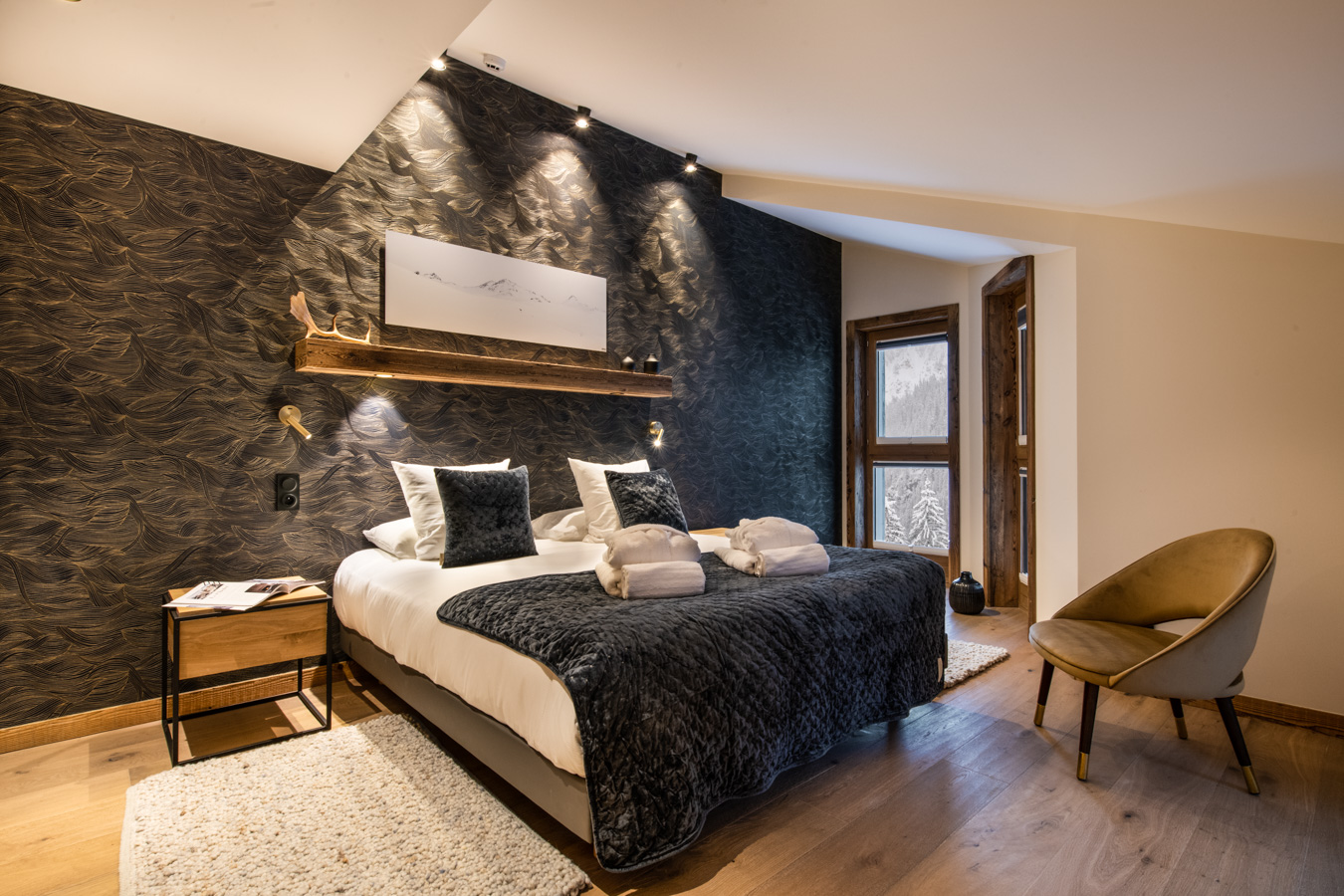 The master bedroom of the Kailash suite in the Manali Lodge with its wallpaper wall.


We all spend more time at home at the moment. Have you adapted the interiors to this desire for "cocooning"? And do you see buyers' goals changing?
Mathilde : As our residences are for tourists on holiday, there is a natural sense of cocooning in the Alpine style throughout our interior designs. There is a considerable difference in personal and financial investment between buyers in Les Gets and those in Courchevel or even in Val d'Isère for example. There is also a real difference between property investors and buyers who wish to have a family second home. There tastes are always different and we must account for that.
Of course, your interiors should be suitable for both winter and summer residences. How do you combine this balance?
Mathilde : We try to avoid too much fur, but our customers are fans of it both winter and summer! This is the magic of the mountains...
Is there an upcoming Alpine Lodges project that you are excited about?
Mathilde : At the moment we are more in the delivery phase, rather than in the project design phase. It's exciting to see designs that we worked on some time ago come to life!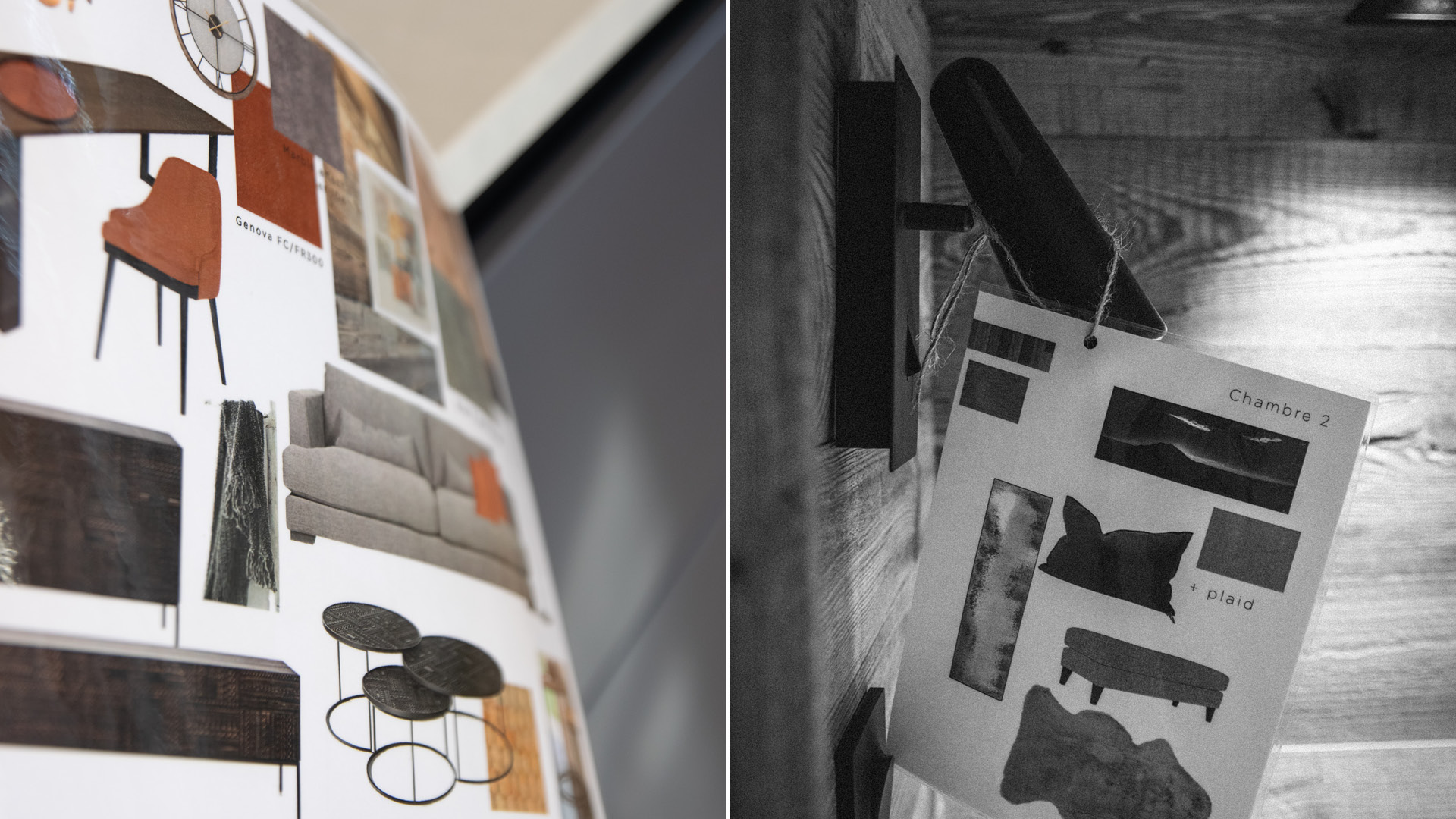 During the delivery phase in the Kinabalu residence in Les Gets.


Have you recently discovered any new products / designers that you would like to integrate into your work?
Mathilde : Given the current conditions of confinement and work, we do not really have the opportunity to discover as much as usual, but of course I always have my eyes open for new styles, tends and designers. For inspiration, this is important! Our decoration selection can also be found in a future issue of the Alpine Collection, coming soon!
Head here to view the interiors of Manali Lodge in pictures. You can also check out the latest purchase availability at Manali Lodge here, Kinabalu here and Vail Lodge here. Also find all our availabilities for sale here. Please do not hesitate to contact our teams for more information.