Eight months ago we embarked on one of our most fantastic projects yet: Manali Lodge. At the end of winter 2019 we started renovating the five-star Hotel Manali, transforming it from a luxury hotel to a boutique collection of dazzling slopeside apartments with the finest of in-house services. Manali Lodge is another fine example of our signature residences, which combine the independence of fully-equipped apartments with the on-site services of a high-end hotel.
We were incredibly proud to open Manali Lodge in time for the Christmas holidays, and welcome our first guests for a spectacular festive period right on the slopes of Courchevel. The residence is ideally located just next to the pistes of Courchevel Moriond, making it the perfect spot for your winter holiday. Home to eighteen luxurious apartments, Manali Lodge also offers a swimming pool, spa area, ski room, concierge service and fitness space. But perhaps the best part is the two new in-house restaurants, Bistrot Manali for lunch and Gaïa for dinner.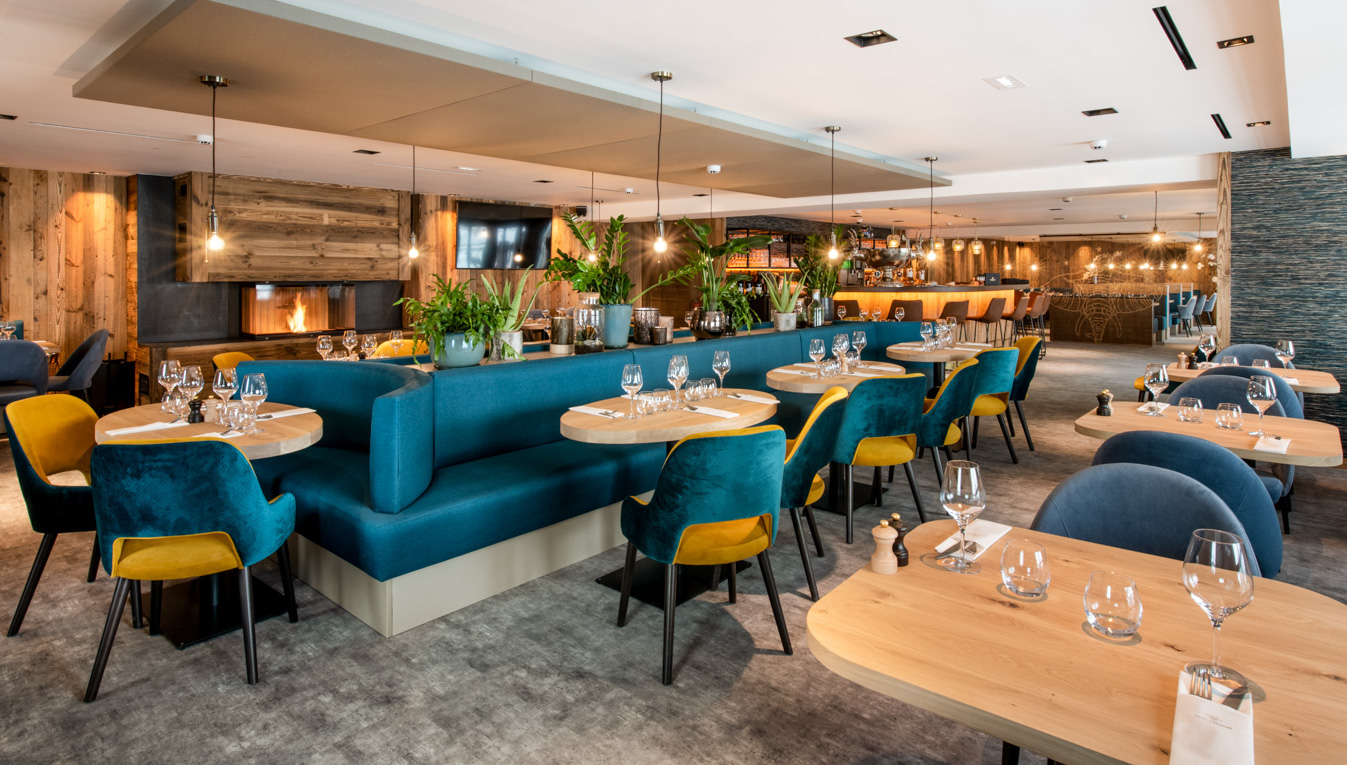 Bistrot Manali is a cosy, relaxed eatery with a large sunny terrace overlooking the ski slopes. You'll find a mouthwatering selection of sharing plate, a la carte options and homemade desserts alongside great service, beautiful décor and an amiable atmosphere, especially when it's a sunny day on the terrace! Join us at Bistrot Manali from 10am until 5pm daily.
Gaïa is Manali Lodge's fine dining option, featuring a range of inspired dishes that offer a contemporary twist on a range of classic meals, both French and international. With its striking interiors and intimate atmosphere, Gaïa is the new place to be in Courchevel Moriond. And it's not just about the food, Gaïa will host a DJ and dancers after hours to keep the evening going once you've enjoyed your dinner. Every night after dinner you'll enjoy a live DJ and dancers, while on Thursdays Adrian Sax will be on the Saxophone at both Bistrot Manali in the afternoon and Gaïa in the evening. And on Tuesdays Gaïa will host the fantastic jazz singer Tania Ivanov and a selection of special guests throughout the winter.
[edgtf_button type="solid" size="large" text="Discover Gaïa" target="_blank" icon_pack="" font_weight="" link="https://www.manali-lodge.com/gaia/"]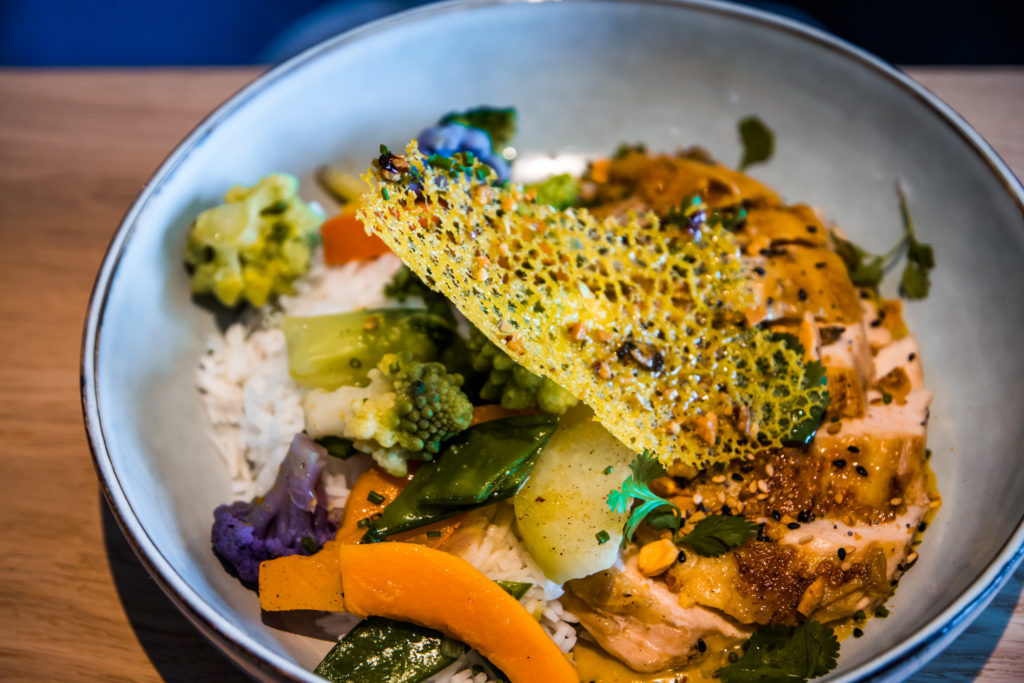 Both restaurants feature original menus designed by our executive chef, Antony Trezy, and are open to the public throughout the winter season. Whatever mood you're in, whether you're after a quick hot chocolate stop on the slopes, a long lunch in the sun, or a fine dining dinner, there will always be something for you at Manali Lodge's restaurants.
When you make your way to the upper floors of Manali Lodge, you'll find stunningly finished fully-equipped apartments that will feel like a home away from home. Ranging in size from two bedrooms plus a cabin to four bedrooms plus a cabin, it's the ideal spot for the ultimate intimate getaway or a holiday with the whole family.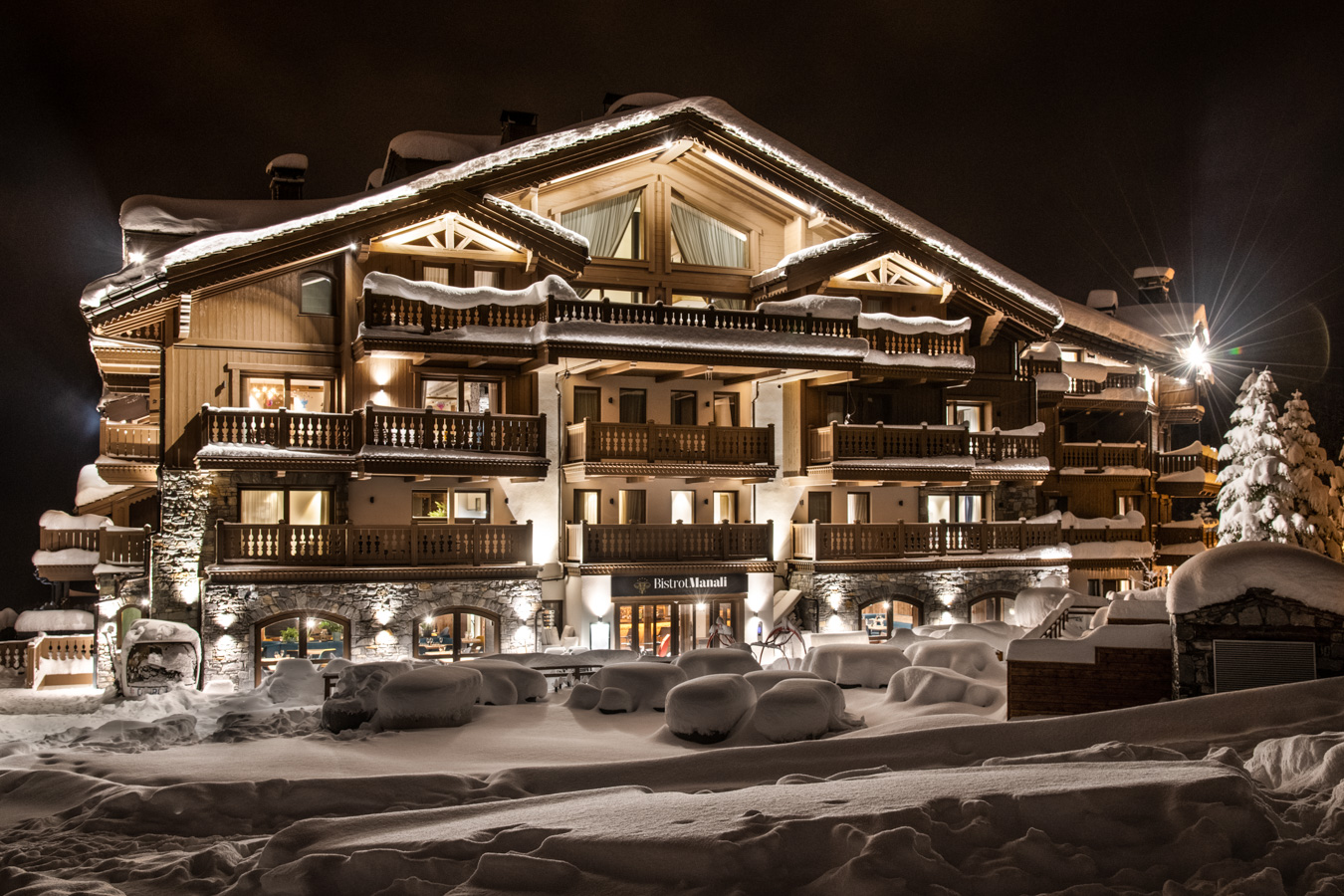 And if you're looking for a more permanent holiday investment, there are also a number of apartments for sale in Manali Lodge. Whether you're in the market for a private residence that you, your friends, and family can enjoy, or you're looking to make returns through holiday rentals, we'll be with you every step of the way to owning your dream home. From flexible holiday rental programmes to our concierge service helping you maximise your time in your apartment, the possibilities of owning one of these magnificent homes are endless.
We couldn't be happier that Manali Lodge has taken shape and the end result is more spectacular than ever. We can't wait for you to come and see it! We'd also like to say a huge thank you to everyone who worked on this project, we couldn't have done it without you.
If you'd like to buy an apartment in Manali Lodge, you can find out more HERE. We also have a range of apartments and chalets for sale throughout les Trois Vallées and les Portes du Soleil, which you can view HERE. Don't hesitate to ask if you have any questions - you can contact us HERE.. And if you'd like to visit les Trois Vallées les Portes du Soleil for a holiday, make sure you view what's on offer with our sister company Alpine Residences.